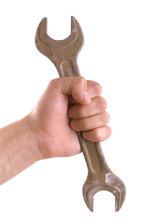 NOW HIRING!
Interested in pursuing a career in the plumbing industry?
Or, perhaps you are already employed and are looking for an opportunity to fully apply
yourself and reach your full potential. Either way do not hesitate to contact us to find out
current employment opportunities within our company. Click here for a printable application.
We are currently seeking to fill the following positions:
Journeyman Plumbers
Apprentice Plumbers
It is the policy of Winner Plumbing & Heating L.L.C. to recruit, hire, train and promote employees without discrimination because of race, religion, color, political affiliation, marital status, physical or mental disability, national origin, sex or age. This policy applies to all levels and phases of personnel administration such as recruitment, testing, hiring, training, promotion, transfer, leave practice, rates of pay, selection of supervisory positions and employee benefits programs.
Winner Plumbing & Heating L.L.C adheres to this policy to maintain and build an organization of the highest quality that provides equal employment opportunities to all persons on the basis of individual merit. Winner Plumbing & Heating L.L.C is a drug-free employer.